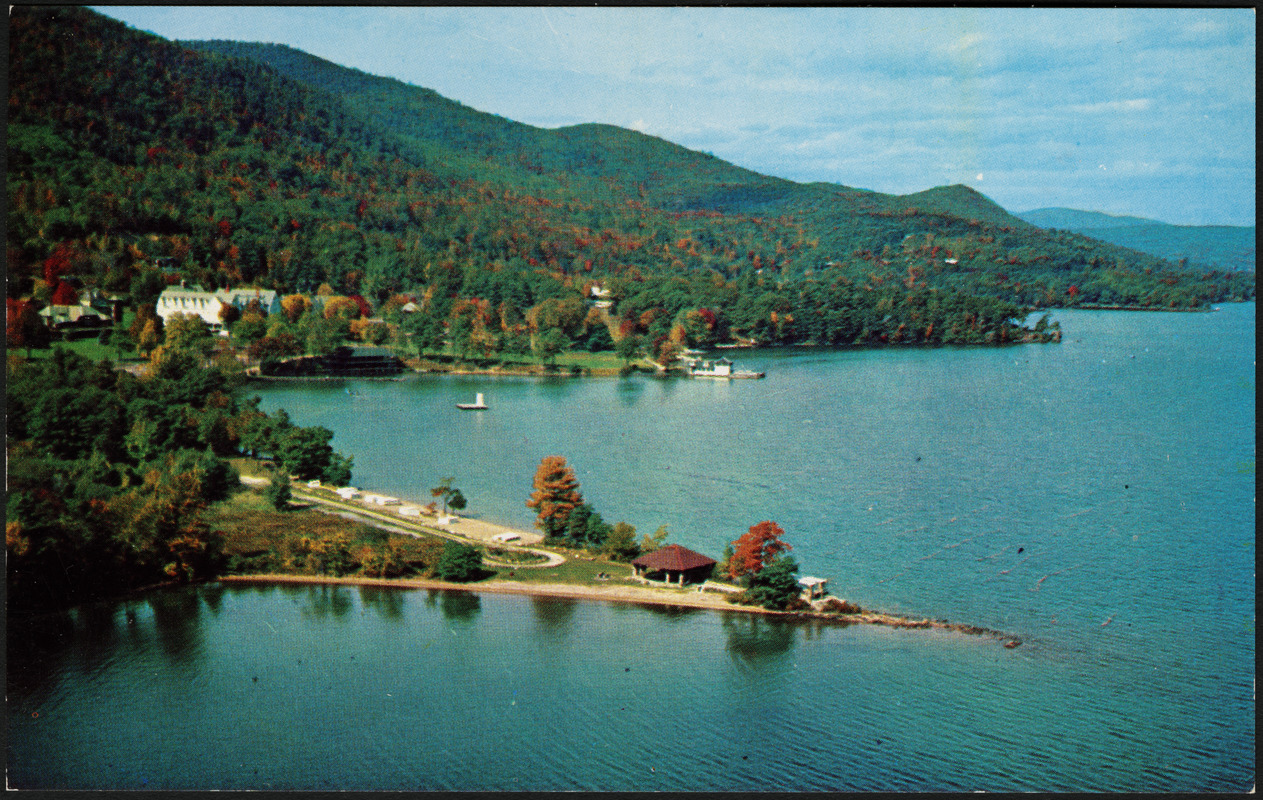 LAKE PARADOX is a region located in upstate New York, around the base of the Adirondacks. Roughly a three and a half hour drive from New York City, it's a great place to get away from the bustle and chaos of urban living.

While the number of year-round residents is relatively small, the area's population swells to tens of thousands around summertime, attracting visitors to the shoreline and campgrounds. A smaller revival comes around in the winter, when the resorts and ski lodges open up at first snowfall, and the lake freezes over for ice skating.

But what makes Lake Paradox stand out from other retreats are its more eccentric attractions, like the UFO landing sites and haunted hotel tours. Most activity centers around two charming lakeside towns, PARADOX VILLAGE and ONEIDA LANDING.
PARADOX VILLAGE
An area at the south end of Lake Paradox, the village is a famous tourist destination, originally established with the construction of Fort George in 1755. The town is known to be the hub of summer vacation activities — with boat launches and seafood restaurants, shops full of tchotchkes and airbrushed t-shirts — anyone enjoying the lake comes through Paradox Village at some point. Below are some notable landmarks and businesses in and around town! (Click to expand details.)
LAKE SHORE DRIVE
The main thoroughfare that runs all the way around the lake, it's the home of most of the motels between Paradox Village and Oneida Landing, with a max speed of 35 MPH. When not interrupted by resorts built in the 1940s, the roadside is overrun with trees and hidden local roads leading into the neighborhoods of the more permanent townies.
the windemere

An enormous Victorian-era resort, the Windemere is haunted as fuck. Multiple wings have burned down on separate occasions, and while they have been rebuilt, they always smell like sulfur. Doors lead to nowhere, and staircases never end, or finish abruptly, or disappear. Figures in paintings watch you, porcelain dolls in rooms move, the pipes whisper and definitely don't look into the mirrors. Otherwise, though, it's very pretty — and very expensive!
Passageway Motel & Inn

One of the more affordable motels on Lake Shore Drive, Passageway has a decidedly eerie vibe no matter how many renovations it goes through. The hallways always seem to go on forever. It probably doesn't help that room 307 and the pool act as corridors to other universes and planes of existence. The barriers between worlds are thin here, making it the perfect place for rituals, transitions, possessions - you name it.
lakeview campgrounds

The public campgrounds on the water have over a hundred tent and trailer sites, with amenities such as restrooms, hot showers, firepits and picnic tables. Cabins can be reserved in advance. Campers can go for a dip in the lake, kayak or fish, or they can head up on a hiking trail. Supposedly, one of the UFO crash sites can be found in those hills, though others have tried searching for Bigfoot there, too. But he prefers to be called Harry, and doesn't like his photo taken.
ONEIDA LANDING
About ten miles up Lake Shore Drive from Paradox Village, the Landing is a smaller hamlet more popular with locals than the tourists. Known for the series of restaurants with expansive decks overlooking the lake, Oneida Landing provides a low-key getaway from your getaway.
...but wait, there's more!
Please note the map is not all-inclusive, and only shows the highlights and rough geography! Normal businesses and locales such as the neighborhood pharmacy, elementary and high schools, dentistry, police station, cemetery, public park, etc. exist, but are not listed. If you'd like to add a destination or business to our directory, please
fill out the form
!